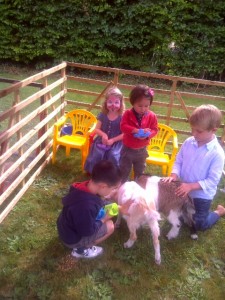 This spring we went to several bookings with our Pygmy goat experience, it was fab all this children were able to go into the pen with the goats, we supplied cups of feed for each child so they could feed the goats.
The goats loved this and so did the children.
We provided coloured chairs in the enclosure for the children to sit on along with a few bales of straw, the children enjoyed interacting with the goats.
Each child even had a go at brushing the goats with specially provided small animal brushes.
This is ideal for town centre bookings, corporate and children's parties.